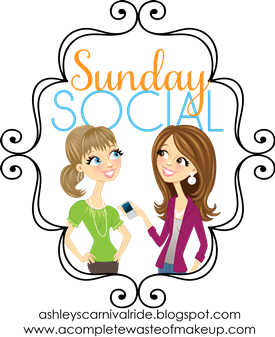 Linking up today for the Sunday Soci

al!
Just a warning question 5 does have a bit of (really tiny bit) of profanity in it. So if you're offended by that stuff, skip i

t. :)
1. Biggest Middle school fashion mistake
I didn't really wear any mistakes. I was more of a jeans and t

-

shirts kind of girl, which isn't the most

fashionable

, but you can't go wrong with it. Although I do have a funny/

embarrassing

story about something I wor

e once.
It was PJ day at school. I wore my favorite Cow pajamas (baby blue with cartoon cows all over them). It had a matching tank top, but I was wearing a hoodie over it. I tried to show my friends the tank top and accidentally pulled up the tank top with the hoodie. Flashing my bra and stomach to the world (

more so

the small hallway we were in). MORTIFIED!
2. Who were your best friends in hs? Pics?
My last 2 years of school I had quite a large group of friends. Mostly guys, but a few girls mixed in. No pics

though. I think they are all boxed up in storage.
3. What was a typical weekend like for you in hs?
Typically I would pick up 2, sometimes 3 of my guy friends and we would head to the pool hall to meet a bunch of our other friends. We would play until late at night and head back home. We also had our

occasional party nights.
4. Did you have any boyfriends/girlfriends? Tell us about that
I really didn't have anyone special enough to talk about. I had this thing that I couldn't stay with someone for more than 3 months. I always broke up with them at the 3 m

onth mark. I don't know why.
5. Did you have any secret codes with your friends? Spill your secrets!
No secret codes. Inside jokes though. One of my best friends and I had sooo many inside jokes. One of them was a long going on argument about what was better, being a Bitch or a whore. I said Bitch, she said whore. I even taped (with electrical tape) Whore on her car door and bitch on the passenger door where I always rode. We were horrible

, but it was all in good fun.
6. If you could relive one day/moment/experience from middle school or high school, what would it be?
I can't even think of one specific night. I had a lot of good times. Lots of memories, but no specific moment that I can

think of.