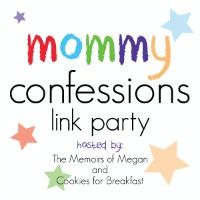 My confession this week is a little different than normal, for me at least. Ready to hear

it??
I vacuum my dog.
Yes, I'm talking about that little contraption with the hoses and the brushs that suck up dirt and crap off your floor. I use

one on my dog.
He's our 125 pound

baby (even though he's 7 yrs old, he's still my baby). He's big, he's adorably sweet, he's clutzy and he's afraid of everything. EVERYTHING. Empty boxes, loud noises, water, toys that move and vacuums.
He HATES the vacuum. His tail tucks between his leg, he runs around like a

crazed lunatic

, he traps himself in the corner. I have to chase him out of every room I vacuum before

I start.
He also sheds. Like crazy. Hair on everything. I can fill a brown paper bag with hair during one brushing and there is still hair coming off. It never, ever en

ds. Ever.
O
ne day I was vacuuming with the hose attachment and Maj

or

was laying on the couch looking

for the best escape route

. I noticed

loose hair all over him, so I thought, what the hell and I started to vacuum him.
At first he was terrified and looked at me like I was the worst puppy Mom ever. I felt guilty, but not guilty enough to stop. I switched attachments to one of the "pet hair" attachments that came with the vacuum that do

esn

't work for crap. It has little rubber nobbys to grab the hair and a spinny brush to help do something

else that doesn't really do crap either.
He actually started to enjoy it. Plus, it was removing hair. The attachment

is good for something!
So there you have it. I vacuum my dog. I obviously still brush him, but when I'm cleaning the living room, I also give him a quick vacuum. He's still afraid of the vacuum in floor form, but he quite likes the attach

ment now.
Don't worry. He still loves me.
.
So there. Now you know my deepest secret

. Don't judge.